GUITAR LESSONS
Jazz Guitar Materials for Students and Educators
Guitar Lessons on my YouTube Channel!!!
Edumacation!
After being musically educated at the Universities of Minnesota-Duluth, Wisconsin-Stevens Point, and North Texas, I became an educator myself, teaching at UWSP, UW-Marathon Center, the Wausau Conservatory of Music, Inver Hills Community College, MacPhail Center for Music, and a recently defunct school that was once called Music Tech, where I worked for nearly 20 years. I have also taught summer camps and workshops at the Shell Lake Arts Center, UW-Green Bay, UW-Stevens Point, the former Music Tech, Minnesota All-State Jazz at Concordia in Moorhead, MN, and a unique jazz camp in Jesus Maria, Argentina. I have also been an adjudicator and performer at several festivals in the area.
One of my Facebook handles is "Christopher Olson Edumacator." I thought that would be a forum for communicating with students, but it quickly became just an extension of my other FB account. So I'll try this again, here. I will post materials and videos here, or link you to YouTube videos. One series I'm putting together is a class on contemporary harmony, which I was supposed to be teaching this semester, except that my employer went out of business. So here is a chance to take the class, free of charge (for now). I will also post various guitar lessons (there's a glut of this on the intertoobz, but I intend to enhance your gluts). Enjoy!
Contemporary Harmony
I taught a class at a school. I was supposed to teach it this semester. Then this semester didn't happen. I'm going to teach the class anyway, to anyone interested, on this site. All the videos will be posted on YouTube at this PLAYLIST. I will post the latest lesson here: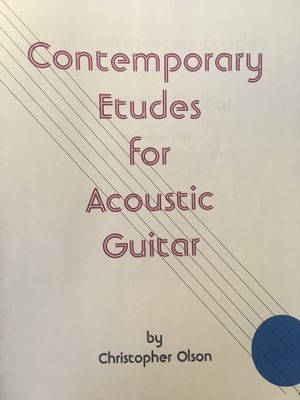 Contemporary Etudes for Acoustic Guitar